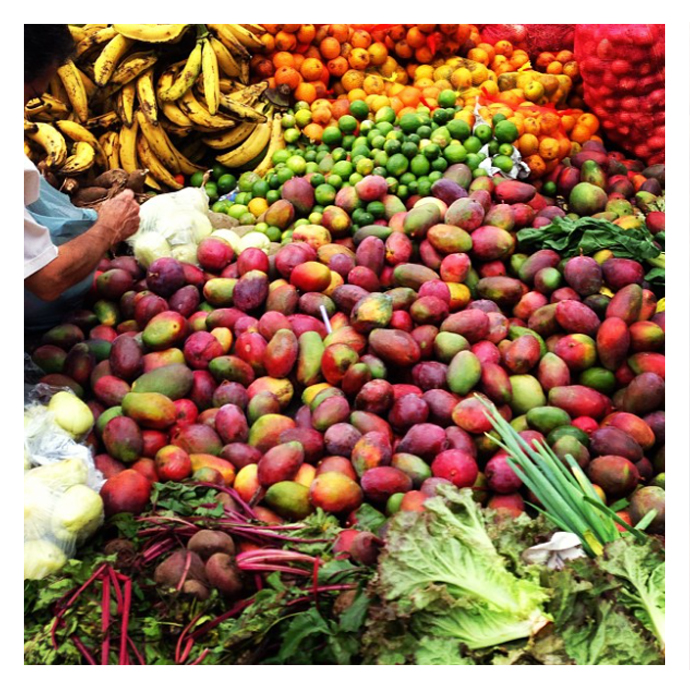 Costarican cuisine is delicious and varied; visitors and tourists will love it. In Costa Rica you will find from appetizing traditional dishes to the famous "bocas" (small dish to pair with your drink), but also delicious tropical fruits that you will love!
Precisely the fruits are the tourist´s favorites since many of them like: mountain-apple (manzana de agua), lychee (mamón chino), costarican guava (cas), tamarind, etc.; they don´t exist in other part of the world, so the many travelers in our country don´t waste the opportunity to try them.
If you ask, any "tico" will tell you there is a huge number of foods that are a costarican trademark, so in Elemento Natural we are recommending eleven of them that you must try during your trip to Costa Rica:
1. Fruits: start your day with a flavorful plate of costarican fruits! As we were saying, Costa Rica is known for its tropical and nutritious fruits that both locals and tourists love to try and taste. You can enjoy them in plate, in a drink or a smoothie or even as a dessert after lunch.
2. Gallo Pinto: having "gallo pinto" for breakfast is the tradition in any costarican home or restaurant.  It´s a simple but tasty dish, simply made of rice and beans, seasoned with onion, peppers and cilantro. You can pair Gallo Pinto with a number of foods according to your taste, but it usually goes with eggs, white fresh cheese, sour cream and some slices of fresh bread or homemade tortillas. The true costarican twist is adding a few dashes of Salsa Inglesa!
3. "Casado": What is it? Translated literally, casado means "married." The "casado" is the typical costarican lunch and you can have it anywhere in the country.  It usually has: white rice, beans, some type of salad and vegetables, plantains and meat of your choice (beef, pork, chicken of fish).
4. "Olla de carne" soup: "olla de carne" is pretty famous in "Tiquicia". There are still many costaricans that cook on wood ovens. This is a soup with many fresh vegetables like: potatoes, green plantains, corn, squash, chayote, yucca, tiquizque (starchy corm), sweet potatoes, among others and of course tasteful meat chunks, accompanied with rice.  You will be drawn by the delicious smell!
5. Picadillos: costarican cuisine offers a wide variety of picadillos. This is a savory meal that you can pair with corn tortillas or you can find it in the typical "casado". Some of the options are potato, green plantain, chayote, arracache (starchy root) and even papaya.
6. Pejibaye: pejibaye is a fruit coming from the peach palm, good source of vitamins A and C, and carbohydrates. Ticos often eat them cut in half, with mayonnaise or as soups or creams.
7. Tamales: in Costa Rica you can find tamales any day of the year and at any time, but traditionally all families prepare tamales in December for Christmas and New Year´s eve.  The most common one is pork-tamale, but you can also find bean-tamale, chicken or even sweet ones.
8. Chifrijo: this is one of the most famous "bocas" in Costa Rica. It was created at a small bar owned by the Cordero family in San José; but today you can find it virtually in any bar or restaurant in the country. It is a combination of fried pork chops, beans, rice and pico de gallo, avocado and chips.  It´s an excellent choice that you can´t miss in Costa Rica.
9. Vigorón: this is another "boca" that many costaricans like, even though it is originally from Nicaragua.  It has a special meaning for the people of Puntarenas´ province. It consists of fried pork chops and pork rinds (the crunchy meatless type), boiled cassava and green cabbage salad with chopped tomatoes in lemon.
10. Rice & Beans: it´s definitely the most emblematic dish from our Caribbean coast. As the name suggests it is a combination of rice and beans but it is cooked specially with coconut milk that gives it a particular flavor. It is usually paired with Caribbean chicken, salad and ripe plantains.
11. Churchill: as dessert you can´t miss the famous "churchill", shaved ice with syrup, very emblematic from the Puntarenas "Puerto". Be sure you try it with sweetened condensed milk or even with powdered milk, wafers or ice cream.
When you travel to Costa Rica you will have the chance to try the tasty foods of our country, so you can make a very unique trip. Come and be a "tico"!  We invite you to buy local and enjoy the typical costarican cuisine.
Photo Credits: Jose Tenorio Photography 
central america
,
chifrijo
,
churchill
,
costa rica
,
costarican cuisine
,
food porn
,
gallo pinto
,
latinamerica
,
local food
,
olla de carne
,
vigorón
,
visit costa rica
,
why costa rica
2